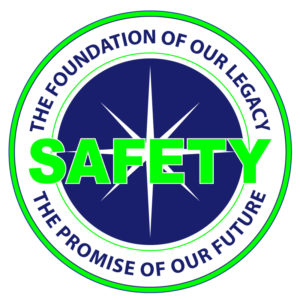 The safety of employees, clients and of the general public is of vital concern to the management of Bluestone Communications, Inc. It is our intent to conduct all operations of the company in a safe manner for the protection of our employees and of the general public. Each employee shall be assured of a safe and healthful working environment.
We have developed an effective Safety, Health, and Environmental program (SHE), tailored to our business operations and designed to provide the necessary resources to our supervisory personnel in the field. We work closely with our unions to insure that all personnel that staff our projects receive the proper training, personal protective equipment, tools and supervision to perform their work in a safe and healthful manner. We work closely with prime contractors and owners to insure implementation of site-specific SHE programs.
In order to implement and monitor the Safety, Health, and Environmental program, a Safety Policy Committee consisting of certain officers and senior managers of the company has been created. The Chairman of the Safety Policy Committee will function as the Corporate Safety Director and report directly to the President of the company.
Bluestone Communications received NECA's 2012 and 2013 Zero Injury Award for having no recordable injuries in 2011 and 2012.