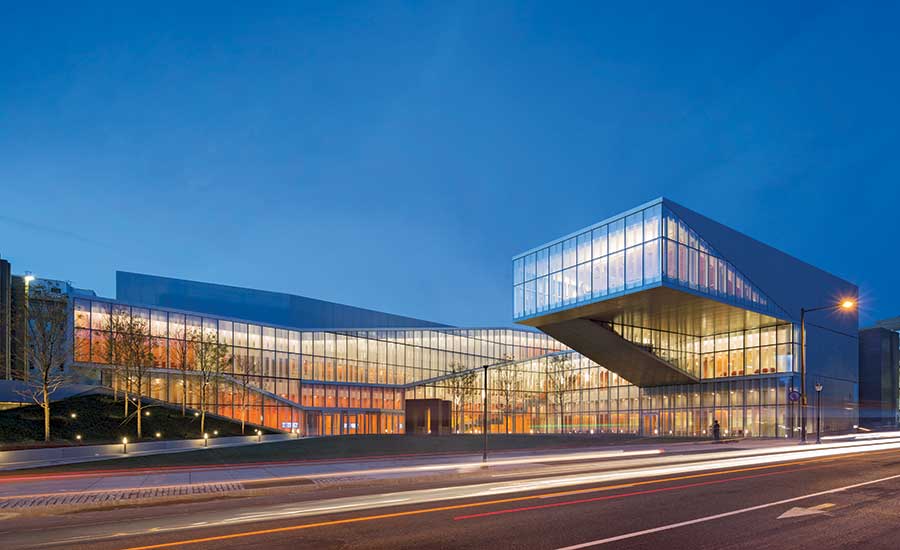 ENR MidAtlantic Magazine – Taking advantage of strategic opportunities and approaching future growth with patience, Hatzel & Buehler has remained the oldest and one of the largest electrical contractors in the United States. The 133-year-old, Wilmington, Del.-based firm has a presence in seven states, including a recent push beyond the Mid-Atlantic into Ohio. Although rooted in tradition, the company has embraced emerging technologies and contracting methods.
Hatzel & Buehler tallied a 6% revenue increase in the MidAtlantic from 2015 to 2016 and a 15% revenue increase from 2014 to 2015. It ranked at No. 4 on last year's ENR MidAtlantic Top Specialty Contractor list, reporting $119 million in regional revenue, and this year is ranked at No. 5, with $125.80 million in revenue. The firm's largest corporate charity is a foundation that raises money for pediatric cancer. Further, the firm recently partnered with the American Red Cross to match every dollar its employees donate to families impacted by last summer's hurricanes. For all these reasons and more, ENR MidAtlantic has named Hatzel & Buehler the region's Specialty Contractor of the Year.
As a privately owned company, which is held entirely by third-generation owners—and brothers—Bill Goeller and Mike Goeller, the firm isn't pressured by shareholders to expand. "We don't have a long-term strategic plan that says every five years we will open an office," Bill Goeller, the firm's president, says. "We try to keep our eyes open for opportunities that make sense and fit our business model."
For years, the company looked for opportunities to open a Pittsburgh office, including unsuccessful acquisition attempts. The firm finally found its Steel City entry point with the acquisition of Franklin Electric. Three of Franklin's main customers—PNC, BNY Melon and Verizon—remain clients.
The company diversified its offerings in 2005 by founding Bluestone Communications. The Folcroft, Pa.-based, wholly owned subsidiary provides telecommunication installation and maintenance services. Goeller says Bluestone has grown to about $40 million in annual revenue, partially by pairing its services with Hatzel & Buehler. "We do a significant amount of business together now," he says. "We look for opportunities where we can go to a client and show them that we can offer both the power side and the low-voltage side. It makes for an attractive package to offer to a client."
Among their most notable recent projects, the duo has tackled a major infrastructure upgrade at Nemours-Alfred I. DuPont Hospital for Children, in Wilmington, Del. The multiyear project is contracted under an integrated project delivery method, with Hatzel & Buehler acting as one of the primary trade partners. The project consists of a complete replacement of the existing electrical infrastructure, including emergency substations and associated distribution, with no shutdowns. Hatzel & Buehler also will provide the electrical and fire-alarm services to the new air-handler units throughout the facility.
John Condi, vice president and branch manager of Hatzel & Buehler's Delaware office, notes that, while the contract guarantees the firm's costs, profit is at risk. "It's great to see the team work together because we know it benefits everyone," he says, adding that the firm has another two to three IPD deals in the works.
In addition to using cutting-edge delivery methods, the company is pushing emerging construction processes on its projects, Condi says. Many of the company's offices now have prefabrication facilities for building racks off-site. He says the company's expanded use of building information modeling has helped to enable those prefabrication capabilities. His office has access to two full-time employees who specialize in BIM. "Everything is fully coordinated, so there are almost no 'go-backs' anymore," he says.
The firm employs software that enables in-the-field workers to use tablets or smartphones to access plans, do mark-ups and track punch lists. Using layout tools to access BIM data, "we can get layout done in two hours that might have taken a week in the past," says Condi.
Hatzel & Buehler recently adopted an enterprise resource planning software program to streamline processes throughout the firm. Condi says the ERP system reflects the company's efforts to bring together the firm as a team. "We used to be more focused on our individual profit centers. Now, it's more of an entire team approach," he says. "You're not out there on an island. We share a lot about day-to-day activities now."
Given the high-risk hazards of electrical work, Hatzel & Buehler annually invests more than $1 million into its safety program. The company has a corporate safety director who reports to the Goeller brothers. Further, each branch has a regional safety director who reports to the corporate safety director, not the branch manager. In April, the company's Ohio, Delaware and Philadelphia offices each received 2017 Zero Injury Awards from the National Electrical Contractors Association for working all of 2016 with no recordable incidents.
Despite concerns about the labor shortage in the construction industry, Condi says the firm, which is a union contractor, has been able to properly staff its jobs. "Our office keeps a core of 100 people in the field all the time, but right now we're at 160," he says. "When we have to hire, we have good relationships with the local unions."
Across the entire company, Hatzel & Buehler has more than 900 workers in the field, with 600 of those workers in the MidAtlantic region.
Looking forward, Bill Goeller is optimistic about 2018. He says the company sees continued growth among its key clients in health care, pharmaceuticals and financial services. Its newer offices, in Pittsburgh and Cleveland, likely will see higher rates of growth than other offices, he says. Bluestone Communications is also likely to experience "two to three years of strong growth," he predicts. "Next year should be a record year for us."